Discover more from The Weekly Anthropocene
Dispatches Against Despair, from the Wild, Weird World of Humanity and its Biosphere.
Over 3,000 subscribers
The Weekly Anthropocene, September 6 2023
A pilot program in Nigeria & Mozambique to help the world's poor survive climate disasters, global renewables investment hits a record high, New Zealand restores native birds, and more!
Nigeria & Mozambique
GiveDirectly is widely renowned as one of the world's most effective charities, with their model of sending direct cash transfers to some of the world's poorest people having been evaluated to be highly impactful, efficient and scalable. Since their founding in 2009, they've directed over $700 million to over 1.5 million people, and followed up to track how the gifts has been spent, on "medicine; cows and goats and chickens; school fees; water; solar lights; tin roofs; irrigation; motorcycles to jumpstart taxi services; businesses to generate income; and more."
In 2022, GiveDirectly ran two pilot programs, in Nigeria and Mozambique, to study expanding their model into climate adaptation funding1. They pre-enrolled 65 flood-vulnerable villages in Nigeria in September 20222, then sent $220 to 6,000 families when flooding occurred in October 2022. The second program sent $225 transfers to 4,183 people in Mozambique three days before predicted cyclone-related flooding in March 2023, but the cyclone ended up striking further north than their pre-enrolled villages. (This was still a success; as GiveDirectly notes, "any money put in the hands of people in extreme poverty is a good thing," and "Nearly all of the families in Mozambique paid ahead of March's forecasted river floods that never came had suffered from other flooding in the prior year and used the funds to improve their resilience.").
This is a really exciting prototype for a fast, scalable way to help the people most vulnerable to climate change—the world's poorest—get the resources they need to avoid catastrophe, and perhaps even improve their lives, during climate disasters. Traditional "government-to-government" development aid and climate finance is all too often spent in a manner that is inefficient and/or corrupt3, but extensive research on remittances (money sent home by people working abroad) has repeatedly found that "person to person" transfers are generally a highly effective method of poverty reduction. This makes sense: the individuals receiving remittances or GiveDirectly transfers are the world experts on what they personally need to survive, and research has repeatedly found that contrary to popular belief, people overwhelmingly tend to make smart choices and invest for the future when given unconditional cash transfers. The global climate action movement and richer nations' aid programs4 should devote more focus to supporting and expanding this kind of person-to-person climate adaptation funding!
---
Global Renewable Energy Investment
As BloombergNEF calculates, global new investment in renewable energy reached an all-time high $358 billion in the first half of 2023, up 22% from last year. Solar made up the lion's share and is the fastest-growing sector, accounting for $239 billion (more than two-thirds of all renewables investment), a whopping 43% increase from solar investment in the first half of 2022.
The country-by-country breakdown of solar investment is interesting, with China leading the way, the United States a rapidly-growing second place thanks to the Inflation Reduction Act, and Spain a surprising third. As BloombergNEF summarizes (this newsletter's highlights in bold):
China accounted for roughly half of all large- and small-scale solar investment in 1H 2023. This was mainly driven by lower module prices, a robust rooftop PV market, and the commissioning of the country's so-called energy megabases, which aim to develop large-scale wind and solar installations mainly in desert areas.

The United States was a distant second, with $25.5 billion invested in large and small-scale solar during 1H 2023. However, this was an all-time record and an impressive 75% increase from 1H 2022 as supply chain constraints eased and clarity grew around the country's landmark Inflation Reduction Act (IRA).
As Stripe co-founder and renewable energy investor Patrick Collison noted, this level of finance means that as of 2023, "solar deployment is ~0.5% of global GDP and growing 43% Y/Y." Solar development is about 0.5% of global GDP! That means that about one in every 200 units of monetary value on Earth is being spent on building solar power-finally, something beginning to approximate an appropriate response to climate change. Human civilization is well and truly moving into the Renewables Age, and we're just getting started!
---
European Union
Renewable energy has had an amazing 2023 so far in the European Union. From January through June 2023, fossil fuels met a record-low 33% of electricity demand EU-wide, and seventeen EU countries generated record-high amounts of their electricity from renewable energy (including Greece and Romania with over 50% renewable electricity, plus Denmark and Portugal with over 75% renewable electricity!). Here are some extra fun stats from think tank Ember's magisterial analysis:
Solar is booming: "In the first six months of the year Germany added 6.5 GW (+10%) of new solar capacity, while Poland added over 2 GW (+17%) and Belgium added at least 1.2 GW (+19%). Italy installed 2.5 GW of solar in the first six months of 2023 compared to a total of 3 GW for the whole of 2022, while France added at least 600 MW in the first quarter of  2023, slightly above its deployment in the same period last year. Spain is expected to accelerate its deployment from 4.5 GW in 2022 to 7 GW this year."

For 140 hours in June 2023, wind and solar in the Netherlands produced more electricity than the entire country could consume.

"Coal accounted for less than 10% of the EU's electricity generation for the first time ever in May, with May and June the two lowest coal months on record."
Great news!
---
China
As China's transition to renewables continues to zoom ahead5, the U.S. Energy Information Administration (EIA) notes that a vast network of pumped-storage hydroelectric projects are being constructed to help store electricity from wind and solar farms, ensuring consistent availability on China's grid.
"Pumped hydro" works by pumping water uphill when there's extra electricity available (on, say, windy and sunny days), then letting it run downhill to turn turbines when more electricity is needed to keep the lights on (e.g. on still nights). China is investing heavily in this simple and straightforward "water battery" technology. In May 2023, China had a whopping 50 gigawatts (50 GW=50,000 MW) of operational pumped hydro capacity (30% of all pumped hydro capacity in the world), with 89 GW of more pumped hydro projects under construction. This is a vast amount, and is a great sign for the future of decarbonization in China!
If we look back from the year 2050 and find that human civilization transitioned to renewable energy faster and more smoothly than expected…we'll probably forget about the Chinese pumped hydro boom as a part of that story, to be honest, since the epic sagas of batteries and solar panels are more interesting and even more world-changing. But pumped hydro will have helped—a lot! Great work.
---
New Zealand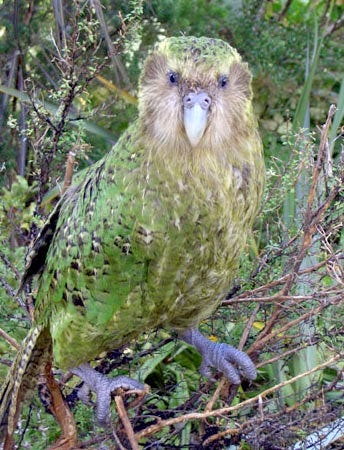 Many of New Zealand's flightless birds (having evolved in a country with no native terrestrial mammals) were driven to extinction or near-extinction in the 1800s and 1900s by settlers and their introduced rats, cats, and dogs. Some species only survived thanks to conservationists running captive breeding programs and maintaining a few predator-free sanctuaries, often on small islands. Now, New Zealand's long-term strategy of restoring its extraordinarily rich native bird life is notching some major wins.
The large flightless parrots known as kākāpō hit a low of 51 birds in 1995, but grew to 252 birds in 2022 thanks to careful stewardship. In July 2023, four kakapos were reintroduced to Sanctuary Mountain Maungatautari on the North Island, the first time any kakapos have lived wild on either of New Zealand's two big "mainland" isles since the 1980s!
Similarly, the large, flightless takahē was thought to be extinct by 1898, but rediscovered in 1948, with their population now at 500 birds and growing. And in August 2023, 18 takahe have been reintroduced to Maori land on the South Island where they'd been absent for over 100 years, creating a third wild mainland population for the species.
New Zealand's epic rewilding experiment is a fascinating case study of humans as active ecosystem stewards in the Anthropocene. As NZ Substacker Melanie Newfield writes, the island nation is becoming a unique ecological mosaic, with native birds thriving alongside introduced plants. Great work!
1
As The New York Times discusses, this was inspired by several previous successful "cash transfers for climate adaptation" efforts in recent years. One notable example is the World Food Program sending about $50 to 23,000 families in Bangladesh right before expected flooding in July 2020. An independent review found that cash recipients were less likely to go a day without eating and were still better off three months later.
3
Reuters recently found that designated "climate finance" from rich countries ended up funding projects like a chocolatier franchise in East Asia, a hotel expansion in Haiti, and a coal plant in Bangladesh. 
4
Inspired by GiveDirectly, USAID is starting to try "cash benchmarking," checking if specific anti-poverty programs are more effective than just giving the program's budget to poor people.
5
Standard China Disclaimer: when praising China's renewables build-out, this newsletter feels ethically obliged to note that the Chinese government is doing lots of horrible things: to name just a few, the Uighur genocide, Hong Kong repression, recent and very possibly ongoing forced organ harvesting, and routinely threatening the free democracy of Taiwan. Praising good things happening in China can feel wrong given all of this. But still, China decarbonizing faster means that every human and animal on Earth gets a somewhat more climactically stable and less air-polluted planet. Very good news coming from a country whose government does lots of very bad things is still very good news. As China's clean energy transition accelerates, feel free to mentally append this footnote to everything this newsletter writes about it.